What not to do if your things are stolen while traveling abroad?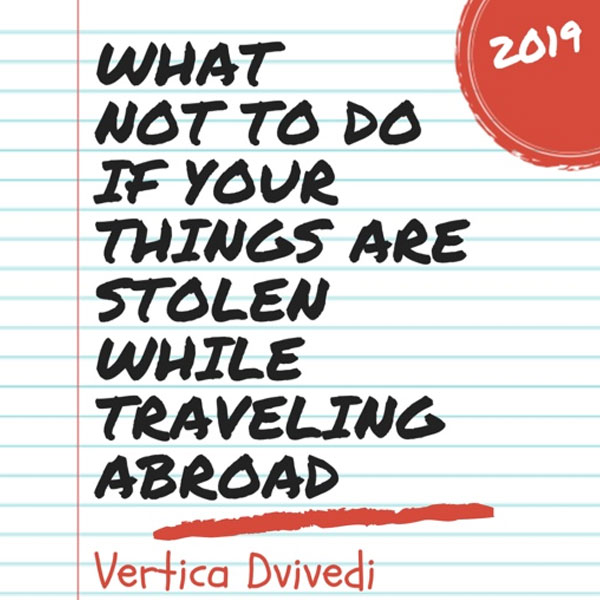 What not to do if your things are stolen while traveling in a foreign country?



How my money, passport & phones were stolen in Milan

Precautions & Care you must take

The Do's & Don'ts if you become a victim of theft in a foreign land
Have you ever become a victim of theft?
I can tell you for sure that losing your

passport, cards, money & phones

(even the professional camera, a lot of data, drives & more in my case) while traveling abroad is extremely painful. It's like you are left with nothing all of a sudden one night while far from the apartment– no identity, no money, no way to communicate!
If not for Madhu who was traveling with me, I didn't even have the address of the apartment or a few pennies to make a call!!! This was my situation while traveling in Milan recently.
I went there for Salone del Mobile exhibition. The 2019 fair was visited by around 3.5 lac people from 181 countries. Milan tops the list of cities where Indian designers visit. As per a report by Corriere a few years back, Milan leads in the number of thefts, with close to 7800 complaints per 1 Lac of residents, followed by Bologna, Florence and Rome. During the fairs, foreigners become the easy target of such miscreants.
What happened to me can happen to thousands of other people thus I decided to share my story in order to save others from such harassments.
MY STORY
Like every year my eyes were filled with dreams about the latest designs we will see at the Salone del Mobile, one of the finest design exhibitions in the world. Heading a publication which is among the few magazines of the world that cover self curated exclusive content from the fair, this was my 5th year at the fair. With the usual 'unusual enthusiasm' myself and Madhu started out to hunt for the best to come in The Editors Choice – 100 Designs from Milan for Surfaces Reporter.
After a satisfactory day, we decided to take the train, expecting to reach the apartment in the next 20 minutes while taxi would take more than an hour. Even through the mad rush, one scene caught my attention. A beautiful girl, might be in her 20's was pushing her way through in the opposite direction of the crowd while weeping ceaselessly. I just hoped all was well with her and her loved ones.
Her pain was visible that touched me even in those few seconds of my observation. My heart prayed for her and hoped all was well. Little did I know that our paths would cross again, very soon.
The rush was unbelievable. I stood near the door holding one of the bags and supporting the other with my leg. I had turned to take something out of my bag when Madhu asked me 'where is your other bag'? In split seconds, I saw the person who was just behind me jumping out of the train with my bag. I could do nothing as the train door got closed and it speeded away. Totally lost, my mind was going back & forth calculating the amount of loss that happened. In utter shock, I looked at the people around, who were sort of quite normal with my loud scream and the innumerable times I uselessly pushed the door button in the running train.
We got down and I tried to collect myself. Sitting on the steps I counted my blessings before counting the total loss.
My mind asked me a question, "What if I was all alone?  Realising that Madhu is there and fortunately her card is safe, we will find out a solution quickly. After planning the 'how to manage strategy' we started on our mission to complete the formalities.
THE SCENE AT POLICE STATION,
TORINO, MILAN (9 – 10 PM): 
At least 15 people were waiting to register their complaints. All were victims of theft in the last 3-4 hours in Milan. We saw tensed & long faces of people sitting there waiting in anticipation of some good news. We were one among them too for a short while until we realised it was futile to expect any good news soon.
I shed the victim tag and replaced it with the tag of a journalist. Excerpts from my observation:
We were surprised to see the same girl sitting there who was ceaseless crying outside the Salone fair. See how life makes a full circle. Her bag was snatched while she was walking outside the fair. She was Turkish and couldn't speak either English or Italian.
Three girls from Russia were still not able to make out how and where their bag was stolen. The friends were on a holiday. One of the girls was crying non-stop. Well, no one interrupted her.
A Chinese group was talking ceaseless, looking really disturbed.
Another woman and man from India entered looking very hopeful of finding the purse of the lady that was stolen while they were enjoying coffee. After sometime, their faces didn't exhibit the same brightness.
An old lady was sitting alone in a corner with her face turned away. My heart prayed for her.
Two men were standing at the gate. Their bag was stolen from the hotel room. They requested for a Spanish form to file the complaint.
I was curious to see how a man was doing some rotational movements with both his hands and whispering to himself. Someone there murmured 'aura cleaning.'
THE COMMON THAT I DREW FROM THE STORIES:
70-80% thefts were targeted on women
High traffic areas are selected for thefts specially trains during rush hours and tourists spots, shopping areas around Duomo
Visitors of the design fair are high on target
The Do's & Don'ts WHILE travelling:
Do not keep all the important things in one bag.
Better to keep passport, cards & money on the inside pockets of your jacket or in a sling bag.
Avoid trains in rush hours if you have multiple bags.
If in train, do not stand with your bag near the gate.
Be careful if anyone stops you to talk in the street or station. Someone might be trying to distract your attention for helping a companion to steal your bag.
If you are carrying a backpack, make sure to hold it on the front side for safety.
If you are visiting Milan for a holiday, take more precautions if it is during a period of important international exhibitions. Thieves are most active at that time.
Avoid responding to vendors in busy places. There might be thieves in disguise.
What you should Do?
Visit police station. Write the FIR clearly with proper mention of things stolen. Mention the phone & email to contact you back.
Someone told us to report the loss by emailing to wantedinmilan.com. However, I suggest get the FIR from the police station first.
Take the copies of FIR, photos, and copies of passport to the consulate and get an EC (Emergency Certificate) done for travelling back to your country.
Send notifications to the bank to block the cards.
I enabled the 'Find my Phone' and set it in lost mode.
Change the passwords of apps, bank accounts & emails.
Check with the Travel insurance and file for the claim.
It is important to get back to business at the earliest so take actions that help you to recuperate. I booked a new iPhone XR, informed business associates, postponed some meetings, cancelled overseas tickets of recent travel, and ensured my office is active in reducing hassles.
What Not to Do or avoid doing?
When you lose things, Do Not lose your mind.
Situations are not under our control, but precautions are.
When you lose, Do Not miss the lesson
Do Not waste time. The time to mourn over the loss of things should be postponed to time after some important formalities are done.
Do Not focus on what's gone. Focus on what's remaining.
If you are reading this just after losing some valuable things in a foreign land, Do Not stop here. Collect your mind and collect your resources.
Do Not spend time informing people unless they are of any help.
Collecting sympathies do not help where actions are required.
Do Not take safety lightly. Take actions to avoid misuse
Do Not reply to any email informing about your stolen things unless you verify it.
Do Not think it cannot happen to you again 🙂
Though the incident was quite unfortunate and it disturbed my plan in Milan, we did try to make the most out of the trip, both professionally and personally. It was a good trip except for this incident. Madhu's presence actually saved me.  Here are some of the photos from Milan (what do you think: were these clicked before or after my things were lost? 🙂
One of my friends asked how I felt having no money, no identity and no phones with me all of a sudden in a foreign land. My response was, 'nirvana'. I did feel out of the world for some time! Well, did I have any choice other than to turn the wounds into wisdom?
—–
Vertica Dvivedi
Stay updated with my videos & articles by liking the FB Page

Or Subscribe to my YouTube channel 
Please note: My intention is to help others to be aware and take precautions. No city is good or bad, just the situations are.