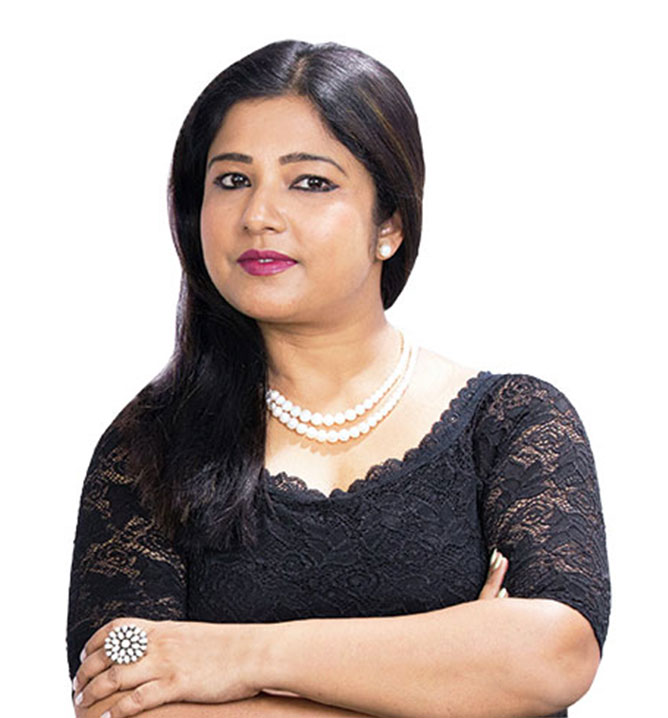 Vertica Dvivedi is one of the top Architecture & Design Journalists and Publishers in India who is also the founder of Asia's largest platform for Women in Design called WADE ASIA. Vertica is an award-winning Entrepreneur, Speaker, and ASIA BOOK OF RECORD holder, passionate about Water-awareness and helping startups & female-owned businesses to rise. From wandering in the streets of Delhi to becoming a respected entrepreneur and steering a significant social initiative, Vertica Dvivedi has come quite a long way…! Making it possible in the unknown city of Delhi is what she dreamt of while working with failures, disappointments, and struggles.
Her latest venture is "The Vertica Dvivedi Show". Dr Kiran Bedi, Lt. Governor of Puducherry who is also India's 1st Woman IPS officer was the guest in her inaugural show.
One of her favorite moments so far was to meet and speak with the President of India.
CHECK OUT the 2 minutes of video about Vertica Dvivedi.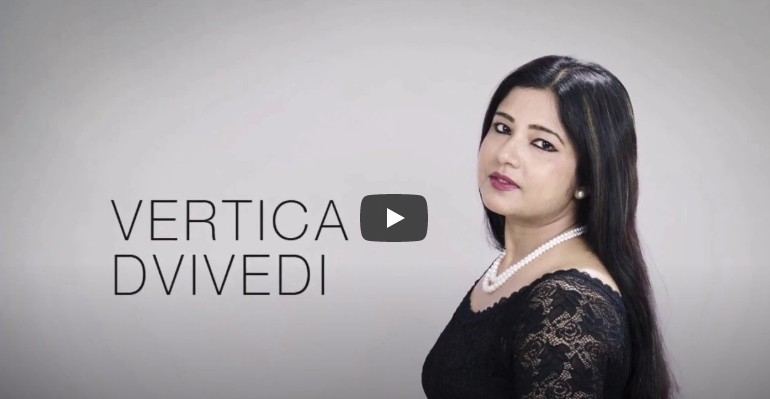 She lives in New Delhi. Her last education was Senior Management study from IIM Calcutta. As a motivational speaker, she talks about her journey from a 'victim to victory' and how young entrepreneurs can remove key barriers for astounding success.
Vertica Dvivedi's work is appreciated and awarded by several organizations including ASSOCHAM, BMW SimplyUnstoppable, Women Economic Forum, and more. The most recent award she received was from Bollywood sensation Bipasha Basu. She enjoys leading  SURFACES REPORTER design & architecture magazine as the Editor-in-Chief.
Vertica Dvivedi is known for her speaking & moderation abilities. She has met and had sessions with some of the best architects, designers, artists of the world, and India. She has been a guest speaker at the National Institute of Fashion Technology (Delhi) and  Sri Jai Narain Mishra PG College Lucknow.
Scaling-up businesses is one of the subjects she enjoys discussing. "People are fearful about Scaling-up while I find it most fascinating. My story is about scaling-up from scratch, both professionally and personally. I reached Delhi with a backpack and a big dream, from a very small town. At work, I started with Rs.3000/- only without any mentor or support. I knew no one but was not scared to begin."
Personally, after losing her parents as a school-going kid, she had to shoulder most of the responsibilities of the other 4 younger siblings. Life was very tough but she continued to move ahead with both – the dream to become an entrepreneur and the responsibility of the younger ones.
A story of her early life struggles & inspiration was selected by Chicken Soup for the Indian Soul at Work and published by Westland Publishing. Through her various initiatives, Vertica loves to give back to society and enjoy hand-holding startups for mentoring.
QUOTES ABOUT VERTICA DVIVEDI AND HER WORK:
The Economic Times (2016): "WADE's creator Vertica Dvivedi believes mad unwavering passion is what makes things happen."
Millenium Post (October 2019): "Women for Water"
Dainik Jagran (27 January 2018):- जीवन के थपेड़े अक्सर हौंसलों को कमज़ोर कर देते हैं। इन थपेड़ों में बिखर गए तो कुछ हाथ नहीं आता लेकिन अगर इन थपेड़ों में टिक कर रह गए तो जीवन भर कोइ डिगा नहीं सकता। वर्तिका द्विवेदी की जीवन संघर्ष गाथा और सफलता कुछ ऐसी ही है। [The tough grind of life weakens the strongest of determination. Few who are able to withstand become unstoppable. Such is the story of Vertica Dvivedi's struggles and successes.]
The Morning Standard, 24 October 2019: "Besides creating a world record in The Asia Book of Records with over 500 women water warriors, WADE Foundation also recognized the work of those striving to
counter the water crisis."
Outlook (October 2019): Over 500 women form the world's biggest W for Water!
QUOTES BY VERTICA DVIVEDI
"Feeling miserable with continuous struggles, I desperately wanted Delhi to accept me. Since there was no sign of it, I adopted Delhi as my hometown. There I found, acceptance is not only about getting but also giving!" – Vertica Dvivedi, during a speech in 2016
"India will have more women architects in the future." – Vertica Dvivedi, Sunday
Guardian, September 2019
"Power is no more in the Big, the Great, or the Mighty. Power is in Action and the capability to bring about positive change."
-Vertica Dvivedi
EDUCATION
"Most of my learning happened on the ground, in the market, and at work. I feel fortunate for all the experiences that taught me resilience, determination and zeal. Probably institutions couldn't have given me that rigorous training," quips Vertica Dvivedi.
Living without parents and with the responsibilities of four siblings, she somehow managed to complete graduation in the Science stream while working to manage a living. In 2013, she did the Senior Management Program from IIM Calcutta.
2020 & 2019
Woman of Substance Award 2020
Recognized for outstanding professional achievement by Indian Achievers Forum at India Habitat Centre on 12 March 2020
All India Women Entrepreneurs Award 2019
Delhi Management Association (DMA) All India Women Entrepreneurs Award 2019, Winner, category 'Super successful entrepreneur'
'AspiringShe' Power of Pen Award 2019
'AspiringShe' Power of Pen Award 2019 for Excellence in Media, Mumbai
2018
Promising Indian Award
By Promising Indian Society, Category- Social Activism, celebrated at the India Habitat Centre, Delhi
Future Woman Leader with Purpose
A recognition conferred by the FWL Forum in Mumbai, November 2018
BMW Inspirational Series 2018
Received the #SimplyUnstoppabletrophy by BMW Deutsche Motoren, selected in the BMW Inspirational Series 2018
ChangeMaker at Change.org
Selected for a fully sponsored program 'She Creates Change', successfully completed in August 2018 in Bangalore
Womennovator 2018
Selected as influencer for '100 Women Faces' and part of the 'Asia Book of Records' for Womennovator 2018, setting the record for maximum number of pitches by women under one a roof.
Exceptional Women of Excellence
Received the title of 'Exceptional Women of Excellence 2018' by Women Economic Forum
2017
Exceptional Women of Excellence
Received the title of "Exceptional Women of Excellence 2017" by Women Economic Forum
SMEs Excellence Award
SMEs Excellence Award 2017 runner-up for Bigsea Marcom (India) Pvt. Ltd. in 'Women Entrepreneur' category Associated Chamber of Commerce & Industry of India (ASSOCHAM)
Winner of Photo Journalism AWARD 2017
A3 Foundation through Nationwide Competition, award received in Chandigarh
Hafele ORBIS Award
Recipient of Hafele ORBIS Award for being the Hafele "Woman of Influence 2017"
Indian Women Achievers Award
Recipient of Indian Women Achievers Award in 2017 by National Summit for Women, organised by Anchor Media
2016
COWE (Confederation of Women Entrepreneurs) India Excellence Award
Recipient of COWE (Confederation of Women Entrepreneurs) India Excellence Award in 2016
2015
Women in Journalism' award
Vertica has been conferred with the'Women in Journalism' award by Rajasthani Academy in 2015.
While living in the hills of Kohima, a far-east town in India, where her father was posted, Vertica Dvivedi brewed the dream to become an entrepreneur. 'I was studying in primary school. My father used to often discuss about various professions and silently wish I become a doctor. However I wanted to live a life without routine and without any binding, in the creative domain. The possibility of shaping my visualization and making them real fascinated me. I kept the dream closely guarded in my heart, not knowing if I was thinking the right thing.'
Life took an ugly turn when she was in 4th standard. Leaving the 7-days old newly born baby boy, their mother expired. She was the eldest of the three sisters and a brother. Even the house was lost to a wrong deal and no relatives came forward to help the family. 'Father was devastated and took to excessive drinking. He expired after a few years. Whatever little time he was with us was my best time with the family. He showed us how to live with dignity and determination. Never in any word or action, he ever differentiated between boys and girls. He told us inspiring stories and gave importance to knowledge. Even in the most poverty-stricken condition, I remember how happily our family lived and always looked forward to better times.'
Being the eldest of the family, Vertica took up the responsibility after her father's demise and moved to Delhi with a backpack and the big dream to provide a settled life for her siblings. 'Often I would remember my dream to become an entrepreneur. As it seemed more & more difficult, my aspiration to become an entrepreneur grew stronger.'
The life that followed was extremely eventful. 'My decision to come to Delhi for opportunities was one of my toughest decisions. Yet I would say, coming to Delhi was easier than surviving in Delhi. Surviving in Delhi was easier than starting the business here. Starting the business in Delhi was easier than retaining the business, retaining the business here was easier than scaling up the business… and so on.'
Currently, she is writing a book, which talks about how she started and which factors were instrumental in her success. She believes it is the duty of those who have scaled up to share how they did it. 'It is important to share the possibilities. Sharing not only inspires, it also helps everyone to learn from the experiences and avoid mistakes.'
Vertica Dvivedi admits being a big fan of Bollywood music. She believes a hobby should be like meditation. One must have a hobby and that hobby should be able to rejuvenate and energize the person. She has a YouTube channel and sings cover songs occasionally, especially the retro Hindi songs.
LINK TO VERTICA DVIVEDI'S SONGS
As a young explorer who never wishes to retire, she is also an avid photographer, graphic designer, and a passionate traveler. She loves to study financial statements of companies and enjoys interacting with passionate & visionary entrepreneurs.