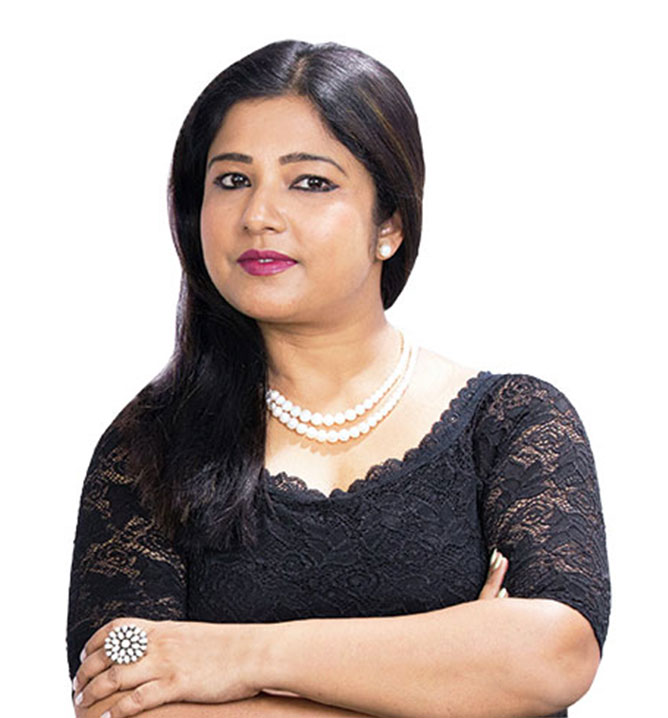 From wandering in the streets of Delhi to owning multiple businesses and a significant social initiative, Vertica Dvivedi has come a long way. Recipient of multiple awards, one of her early life stories, was selected and published by Westland Publishing for their famous book, 'Chicken Soup for the Indian Soul at Work'.
These two quotes from two different newspapers that wrote about Vertica Dvivedi sums up her life so far!
The Economic Times (2016):- "WADe's creator Vertica Dvivedi believes mad unwavering passion is what makes things happen."
Dainik Jagran (27 January 2018):- जीवन के थपेड़े अक्सर हौंसलों को कमज़ोर कर देते हैं। इन थपेड़ों में बिखर गए तो कुछ हाथ नहीं आता लेकिन अगर इन थपेड़ों में टिक कर रह गए तो जीवन भर कोइ डिगा नहीं सकता। वर्तिका द्विवेदी की जीवन संघर्ष गाथा और सफलता कुछ ऐसी ही है।
(The tough grind of life weakens the strongest of determination. Few who are able to withstand become unstoppable. Such is the story of Vertica Dvivedi's struggles and successes.)
Vertica Dvivedi believes in looking at the possibilities and to focus on the positive. 'Bitterness of life should not break you but create a stronger you. We may not have control over the situations but we can control our reactions to them,' she says. In early childhood when time was difficult and no body came forward to support, Vertica and her three sisters teamed up to support each other. All were less than 10 years old that time. 'We did not like the way people sympathized with us or looked down upon us as victims. We just wanted to live a normal life.'
WADe ASIA (World Women Architects Artists Designers & Engineers Ecosystem) which is today world's largest platform for women in design, art, architecture and engineering was inspired from her early life learning about collaboration with her sisters. 'Coming together is strength, staying together is power, growing together is success,' quotes Vertica Dvivedi. In 2016 when she announced the launch of WADe, many people turned away from supporting the initiative. Even women from the fraternity doubted her initiative. Nevertheless, she moved on and was determined to create the platform. With most of self-funding and meager manpower, the launch was yet unassumingly a huge success. People realized why a voice was required to spread & recognize women-led development in India. In less than a year, WADe India expanded to become WADe Asia.
As curator of this mega national event WADe ASIA, she conceptualizes different ideas & topics for discussions, and heads the entire event up to execution. Thousands of people attend WADe ASIA annually. Important delegates from more than 10 countries have attended the event so far.
In her role as Co-Chairperson of Women Entrepreneurs Committee at the coveted PHD Chamber of Commerce & Industry, she works in different initiatives to help women rise as entrepreneurs. Recently, she represented women from PHD as a panelist in association with Government e-Marketplace team. The WEC team even met the President of India to share the objectives and concerns.
Vertica Dvivedi is a writer, moderator and speaker at different forums. She is also a guest lecturer at NIFT Delhi. One of her recent moderation was about India's 1st World Heritage City – Ahmedabad. In the same, the mayor of Ahmedabad Bijal Patel shared her vision for the city.
For National IIID Panasonic Anchor Awards (North & Central region), Vertica Dvivedi was appointed as a Jury member for selection of Nation's Best interior design projects in 2013. Likewise, she is also the influencer for selecting 100 women faces for womennovator 2018. She has spoken at the DMA, Vrutti, COWE, PHD Chambers, IDE, and ofcourse WADe Asia and The Talk of Town events. BMW Deutsche Motoren recognized her spirit and contribution with the #simplyunstoppable trophy.
Vertica Dvivedi is one of the Directors of Bigsea Marcom (I) Pvt Ltd along with Pragath Dvivedi. The company owns some of the most respected magazines operating in interior design and products, viz. Surfaces Reporter (Architecture & Interior Design), Furniture Design & Technology and The Ply Reporter. She heads the design magazine Surfaces Reporter as the Editor-in-Chief and has steered the magazine to success.
#SRPRthetalkoftown are the city events of WADe ASIA. Curated by MadhurimaChowdhury, The Talk of Town events were created to initiate local dialogues between the thought leaders and decision makers of a city. It has marked its footprint in New Delhi, Lucknow, Ahmedabad, Pune, Mumbai, Bangalore and 5 other towns of India. These local city events also led to the starting of India Interior Retailing (IIR) conclave.
Among the most recent awards received by Vertica Dvivedi is the 'Super Successful Women Entrepreneur 2019' by Delhi Management Association. DMA is a premier association of repute, which is founded in 1955 and has 3200 members who are entrepreneurs.  Workaholic by choice, an entrepreneur by passion, with an infectious enthusiasm for life is how her friends & associates describe Vertica Dvivedi.
"Power is no more in the Big, the Great or the Mighty. Power is in Action and the capability to bring about 'Change.' -Vertica Dvivedi

'Most of my learning happened on the ground, in the market and at work. I feel fortunate for all the experiences that taught me resilience, determination and zeal. Probably institutions couldn't have given me that training,' quips Vertica Dvivedi.
Living without parents and with the responsibilities of four siblings, she somehow managed to complete graduation in Science stream while working to manage living. In 2013, she did Senior Management Program from IIM Calcutta. 'The biggest learning there was reiterating of the fact that what I learned from life was good.'
Vertica Dvivedi admits being a big Bollywood fan and believes, a hobby should be like meditation. One must have a hobby and that hobby should be able to rejuvenate and energize the person. She has a YouTube channel and sings cover songs occasionally, specially the retro Hindi songs.
As a young explorer who never wishes to retire, she is also an avid photographer, graphic designer, and a passionate traveller. She loves to study financial statements of companies and enjoys interacting with passionate & visionary entrepreneurs.
While living in the hills of Kohima, a far-east town in India, where her father was posted, Vertica Dvivedi brewed the dream to become an entrepreneur. 'I was studying in primary school. My father used to often discuss about various professions and silently wish I become a doctor. However I wanted to live a life without routine and without any binding, in the creative domain. The possibility of shaping my visualization and making them real fascinated me. I kept the dream closely guarded in my heart, not knowing if I was thinking the right thing.'
Life took an ugly turn when she was in 4th standard. Leaving the 7-days old newly born baby boy, their mother expired. She was the eldest of the three sisters and a brother. Even the house was lost to a wrong deal and no relatives came forward to help the family. 'Father was devastated and took to excessive drinking. He expired after a few years. Whatever little time he was with us was my best time with the family. He showed us how to live with dignity and determination. Never in any word or action, he ever differentiated between boys and girls. He told us inspiring stories and gave importance to knowledge. Even in the most poverty-stricken condition, I remember how happily our family lived and always looked forward to better times.'
Being the eldest of the family, Vertica took up the responsibility after her father's demise and moved to Delhi with a backpack and the big dream to provide a settled life for her siblings. 'Often I would remember my dream to become an entrepreneur. As it seemed more & more difficult, my aspiration to become an entrepreneur grew stronger.'
The life that followed was extremely eventful. 'My decision to come to Delhi for opportunities was one of my toughest decisions. Yet I would say, coming to Delhi was easier than surviving in Delhi. Surviving in Delhi was easier than starting the business here. Starting the business in Delhi was easier than retaining the business, retaining the business here was easier than scaling up the business… and so on.'
Currently, she is writing a book, which talks about how she started and which factors were instrumental in her success. She believes it is the duty of those who have scaled up to share how they did it. 'It is important to share the possibilities. Sharing not only inspires, it also helps everyone to learn from the experiences and avoid mistakes.'
2019
All India Women Entrepreneurs Award 2019
Delhi Management Association (DMA) All India Women Entrepreneurs Award 2019, Winner, category 'Super successful entrepreneur'
'AspiringShe' Power of Pen Award 2019
'AspiringShe' Power of Pen Award 2019 for Excellence in Media, Mumbai
2018
Promising Indian Award
By Promising Indian Society, Category- Social Activism, celebrated at the India Habitat Centre, Delhi
Future Woman Leader with Purpose
A recognition conferred by the FWL Forum in Mumbai, November 2018
BMW Inspirational Series 2018
Received the #SimplyUnstoppabletrophy by BMW Deutsche Motoren, selected in the BMW Inspirational Series 2018
ChangeMaker at Change.org
Selected for a fully sponsored program 'She Creates Change', successfully completed in August 2018 in Bangalore
Womennovator 2018
Selected as influencer for '100 Women Faces' and part of the 'Asia Book of Records' for Womennovator 2018, setting the record for maximum number of pitches by women under one a roof.
Exceptional Women of Excellence
Received the title of 'Exceptional Women of Excellence 2018' by Women Economic Forum
2017
Exceptional Women of Excellence
Received the title of "Exceptional Women of Excellence 2017" by Women Economic Forum
SMEs Excellence Award
SMEs Excellence Award 2017 runner-up for Bigsea Marcom (India) Pvt. Ltd. in 'Women Entrepreneur' category Associated Chamber of Commerce & Industry of India (ASSOCHAM)
Winner of Photo Journalism AWARD 2017
A3 Foundation through Nationwide Competition, award received in Chandigarh
Hafele ORBIS Award
Recipient of Hafele ORBIS Award for being the Hafele "Woman of Influence 2017"
Indian Women Achievers Award
Recipient of Indian Women Achievers Award in 2017 by National Summit for Women, organised by Anchor Media
2016
COWE (Confederation of Women Entrepreneurs) India Excellence Award
Recipient of COWE (Confederation of Women Entrepreneurs) India Excellence Award in 2016
2015
Women in Journalism' award
Vertica has been conferred with the'Women in Journalism' award by Rajasthani Academy in 2015.